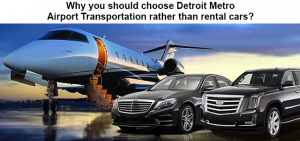 When the matter comes to arrange for transportation to and from Detroit Metro Airport, travellers usually get many options to select from based on their requirements. But in the past few years, the transportation industry has undergone bog changes and has brought several affordable as well as convenient services to both businesses as well as personal travellers. In the past, the rental cars were a big option but the day by day the rate of rental car is increasing, with no end, thereby forcing the travellers to look for some other options. Apart from the increase in the rate of rental cars, the respective companies are also charging several hidden charges and this is leading to a high final bill. If you are one, who is in the habit of booking rental cars despite the high price, then its time you must go for some changes.
Choosing to reserve a chauffeured car service like DTW Metro Airport Transportation Service, is one of the best as well as a cost-effective option. When you opt for reservation for transportation service with Airport Metro Cars, you will get a flat price for travelling from point A to point B. That too without any kind of hidden fees or any meter charge. But with a rental car, you can never know your bill ahead of time. You also save some amount of money, because you will not have to pay the parking fees either in the city or at the airport. In Detroit onsite airport parking is very expensive, thereby making it one of the highly-priced airports in the country both for the long term as well as short term parking. So, along with rental car cost the onsite airport parking cost enhance the total cost. Moreover, wherever some events are going on in towns, rental car services enhance their charge.
Along with the rental, another problem that arises with a rental car is you are driving the car and you have to deal with all traffic, weather conditions and the constructions. Even if you have the best GPS, that gives instructions about every turn, driving in a state where you are quite unfamiliar can be frustrating as well as stressful. While driving you can't attend to your phone calls, emails and if you are travelling during work hours, then it adds more trouble. You have to drive, fill your gas, arrange for your refreshments that add more task to our busy schedule. But when you reserve with some good Detroit Metro Airport Transportation provider like Detroit Airport Limo Cars, everything is taken care of and all included in the price. If you have any special request, that you can make before leaving so that your chauffeur will take care of everything and you can easily relax and remain rested and refreshed.
When you choose Detroit Airport Limo Cars for your transportation, you will get more than what you pay for.