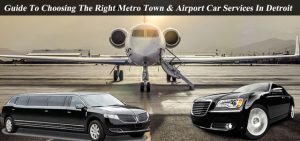 Whether you are going on a trip or traveling for business, airport transportation is a must and time-saving. As per the location, most people prefer having public transportation that is a lot cheaper, but waiting in a queue and getting the right transportation in another city can be a daunting task. After spending a long hectic day while traveling on long flights, you want to avoid towing your luggage to hail a cab or take a shuttle to the airport that is located far from airport arrivals. Booking a Detroit Metro Airport car Services can save your time and provide you comfort after a tiresome air journey.
An airport car services are a comfortable, safe and convenient way to drop off at your desired location on time. You can call us at Detroit airport limo cars to experience the best hospitality and luxurious ride for pick up and drop anywhere in the Metro Detroit area.
Some tips to help you hire the right and reliable transportation service:
Research for a well-known reputed company
When hiring the best company, make sure a company is well-reputed and renowned one. Make sure they are in the industry for years and their drivers are licensed. If car services are providing high-quality transportation services, they will earn good customer reviews and testimonials. Check online for reviews and testimonials that would give you insight into the brand.
Don't rely on last minute
Book services in advance as possible you can. When you book in advance, you would get more options by doing smart research. After an exhausting long air journey, you would not want to encounter an unprofessional driver. When you know about your travel dates, rush and book Detroit Metro Town Cars in advance, so that the company has enough time to schedule your journey with the right driver and vehicle.
Cost-efficient
The rate you see on the advertisement banners for websites in big print can mislead you and include hidden fees like airport surcharges, local taxes, additional driver fees, insurance, gasoline bills, etc. You might end up paying more than you have expected. Beware of the extra charges in car rental.
Make sure you choose a service provider that is transparent about their rates.
Preferences
Invest your time and find out quality providers at affordable rates. If you have special needs or preferences about specific vehicle brand or car seat then you can request in advance. Booking limo services in advance would offer you benefit and pleasurable experience while guest arriving at the airport.
Either you are heading to the airport alone or with family, friends, don't hesitate to call us to avail top-notch services for Metro Airport Town Car services.
Choose Detroit Airport Limo Cars and enjoy hassle-free transportation in Detroit.