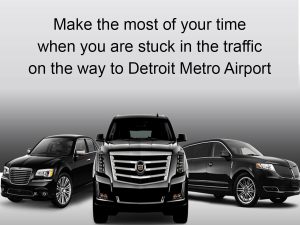 Think of a situation when you are on the way to Detroit Metro Airport, and you are stuck in the traffic for hours. If you are driving your won can, then you may not be able to utilize your time on the drive to prepare for the meeting for which you are traveling. Another nightmare can be parking your car at the Airport. With busy airport roads and filled parking spaces, it may take your valued time to get a parking space for your car. But with Detroit Metro Airport Car services, you can sit back and relax while we take you to your destination with ease. Detroit Airport Limo Transportation service provides to and from service from Detroit Metro Airport. We offer exceptional service for corporate and personal clients as well. Serving our valued clients for the last fifteen years, we have been recognized as one of the best luxury transportation service providers in Detroit.
We focus on customer satisfaction, punctuality, comfort, and value for money when it comes to our service. Take a look at the points which make us stand out as an airport transportation service provider in the Detroit Metro area:
Well accustomed to the routes- All our chauffeurs are well accustomed to the airport routes and keep a good knowledge of the rush hours. They will inform you about the journey details when you are on board. This will help you to plan your time efficiently while they drive you to the Airport. You can choose to relax or prepare for your meeting. We will do our best to make your journey fruitful.
Reporting on time- Timeliness is a vital aspect when it comes to airport transfer. We believe in placing our cars at least five minutes before the scheduled pickup time to avoid the rush. Our drivers inform you about the placement of the vehicle at the pickup point and also assist you with your luggage.
Waiting at the Airport-Flight delay is really annoying, especially when you are returning home. While you book Detroit Metro Town Cars with us, we make sure to wait for you at the Airport. Our chauffeurs are updated with the flight timings; they arrange the car at the Airport in accordance with the flight details. Thus you don't have to wait at the airport for hours for a pickup.
Luggage assistance- While you walk in style, our chauffeurs assist you with your luggage. Be it loading unloading or carrying your luggage to the airport terminal, they help with utmost priority.
The proper utility of time- While our chauffeurs drive you to the Airport, you can utilize your time to the fullest. You may take a quick nap in a quiet atmosphere or go through your important official documents on the ride.
Pickup, while you return to your home town- getting back to your hometown is indeed exciting, but you might be exhausted after a long day at the office, followed by a tiring flight journey. Relax your body while our chauffeurs are at your service at the airport arrival. Enjoy your smooth ride to your home with our transportation service.
Our main motto at Detroit Airport Limo Cars is to give our clients the utmost satisfaction during an airport transfer. To keep our standards as per the expectation, we maintain hygiene, comfort, punctuality, and etiquette in our priority list.